Observe The Animation & Don't forget To

Click On Pictures To Take You To Other

Magical Places!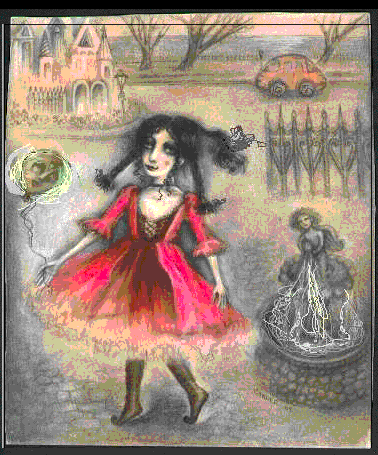 Welcome to my web site!

My name is Carole Joskowitz. I am a
Toronto artist, doll maker and sign painter.

What inspires my art you ask?
Well, let's just call it a taste for the macabre,
a love of the colourful, whimsical, erotic, exotic, the groovy & the gothic!

It's something of a fetish for the psychedelic era & it's rock icons , it's all about love really.

Visit the wonderful "Elizagoth"
medieval inspired gallery & gift shop"
in Stratford, Ontario to see some of my hand-crafted dolls,

or feel free to contact me.
I will answer all of your questions.

I will also do custom made artwork & dolls.



*



"GROOVY DOLLS"
Ohhh What Sharp Teeth You Have Mr. Wolf!
Ah Yes, The Joys Of Childhood
Dutch Dreams Sign
Be Sure To Visit This Place When In Toronto
I Prefer Painting Pictures Of Ice Creams Rather Than Eating Them
"COLOURFUL SIGNS"
I DO CD COVERS TOO!
ANDREA HATALA'S DEBUT CD
COVER ARTWORK BY ME!




A New Favorite!





SEXY ROCK STARS
Marilyn Manson doll "Glam"
I've been making a semi animated short film featuring my dolls. I couldn't do it alone so if you have some time to spare and would like to join
me in this creative project, I'm in need of
puppeteers now.

Thanx to all of you who helped me with
the script & fantastic voices. It could become a hit!









Don't Forget To Check In Often As Samples Of Artwork Will Change Frequently!
Please get in touch!


You can e-mail me at:
"CAROLE'S MAGIC WORKSHOP" Toronto, Canada